Weekend market preview: Bitcoin (BTC), Ethereum (ETH), Ripple (XRP) do their own things as TaTaTu (TTU) and Populous (PPT) highlight the spectrum
It was a rather decent couple of days for the crypto markets, as the pendulum swung back pretty hard after a very bloody start of the week. We saw coins recover left and right and go through some very juicy scalping patterns as BTC hovered between $6250 and $6450. However, it is clear that the buyers have started running out of steam and the market seems due for a retrace in the next couple of days. Let's look at what more knowledgeable people have to say about the current ordeal:
Bitcoin (BTC)
Weslad from TradingView seems mid-term bullish on BTC while expecting a short-term retracement:
"BTC recorded great achievement yesterday with closing with full candle and above the previous high. Yesterday we spotted cup and handle formation and again with how BTC closed yesterday we has another pattern in view which is INVERSE HEAD and SHOULDER. We may see some retracement down before major move will start again."
Turningmecard from TradingView has some different expectations: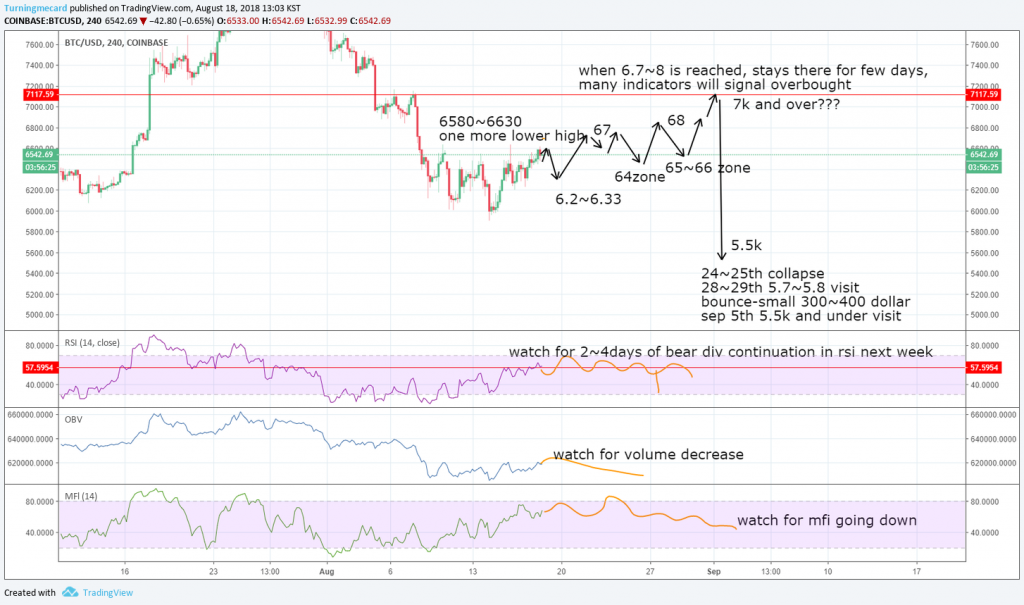 "We could make another lower high at 6580~6630 in coming day or hours, break down hard to initial support or even bottom, and try to make a run there. Of course, when this just goes up 6640+ from now, this idea is invalidated, but BTC tends to visit its initial support, or close to it when it cannot make a HH. So, now i think considering low volume weekend, it should make a little peak and break down from the wedge, and from some point, it starts to make a flag, or a triangle or something to go high. However, i do think BTC would come back, try for 67, 68, because 67~68 neckline is a traditional, classic resistance that BTC has always challenged before deciding to go down!"
He claims that the inverse head and shoulders traders like Weslad mention doesn't always work and warns investors to be cautious. Check out his complete analysis on the link above to learn about his price targets.
TheChartGuys from TradingView suggest that the $6560/6636 resistances need to be broken soon or else the market is headed for some bearish action:
"Currently very patient and waiting for the BTC bulls to prove strength by breaking the double top of resistance. We just broke a tightening 4 hour pattern bullish , but were unable to see the continuation needed to enter another leg up. The bears are still in control as long as we are rejecting from daily EMA resistance. The bulls can still form a 4 hour higher low today and keep themselves within striking distance. A loss of 4 hour higher lows would put the bulls back in full control. Plays are for bears to enter and top fish under resistances, and bulls can look for a 4 hour higher low to enter on."
Ethereum (ETH)
Today we went to Sherem from TradingView for the daily ETH insight:

"Current Conditions:
On the Daily:
RSI is confirming the bottom.
MACD is almost ready to cross
On the 6 Hour:
Broken Trendline
Strong RSI
Strong MACD"
After entering positions around $270/$300, he suggests that people shouldn't see too soon as his targets are around $500-$550 area. "This will give us a similar magnitude move that we had this last April," he claims, and suggests that stops should be used around $450 to protect positions as there is a resistance formed at those levels. Sherem also spots a possible inverse head and shoulders forming if ETH moves sideways from here. Check out the complete analysis here.
Ripple (XRP)
TotoParasca from TradingView feels like XRP exploded on the back of some quality FA:
"Ripple is about to shoot up in the wake of the CEO of the company announcing they will focus in China. Just for the record, China has more smartphone users than US and Analysts expect it to pass US and Europe combined by the end of 2020. This might look useless, but reports from Goldman shows that 99.73% of all the people that trade or have Cryptocurrency are people that use a smartphone everyday. We can expect XRP to be adopted in China and in this way to expose itself to the largest market in the world. The next Crypto boom may come from China."
DrDovetail confirms the breakout and explains why it happened in detail:

"A great sign for not only XRP but the rest of the market as well. Many alts are currently pumping. We can see XRP has already reached the projected price target of the inv 0.29% head and shoulders and is still continuing to climb. This is likely due to the fact that XRP is about to be traded for USD on Bittrex on the 20th as well a the fact that XRapid will be launching later this year. Considering that XRP has triggered it's inverted head and shoulders already and many other alts are pumping the odds of BTC also triggering its inverted h&s are much higher now as well. I am long on both."
For now it seems that XRP has lost some of that momentum and is looking to consolidate before making another move.
Other thoughts
The rest of the market seems to be slowing down as well, as some alts are starting to see stronger retracements heading into the weekend. Populous (10.63%) and VeChain (10.11%) saw the biggest retracements so far and more coins are expected to follow. Buyers still have some juice left in them and TaTaTu (went up 75%), Nebulas (33.8%) and Aion (23.37%) are the best examples of that. Therefore we head into the weekend with the market still being rather green; we will see how long that lasts.
CaptainAltcoin's writers and guest post authors may or may not have a vested interest in any of the mentioned projects and businesses. None of the content on CaptainAltcoin is investment advice nor is it a replacement for advice from a certified financial planner.